NEFF GGT
Spindle
Ball screw with sliding nut
Diameters up to 80mm
Nuts type GGS and GGM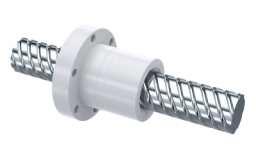 ---
Instead of a ballscrew nut, the ballscrew is fitted with a sliding nut.
This nut has the negative profile of the ballscrew. A combination of high pitches and thus the high dynamics of the ballscrews with the lower cost of the nuts.
The choice of a high-quality plastic version ensures that the spindle / nut runs without lubrication. An important feature that offers advantages in many industries. For example the food industry, cleanroom technology.
The standard program consists of rolled ballscrews. In addition, polished or swirled versions are available.
The NEFF ball screw type KGT has a maximum axial play of 0.05 mm. Optionally with reduced clearance or with preloaded ballscrew.
The NEFF range of ballscrews complies with DIN 69051.
High mechanical efficiency of 98%.
Tolerance classes
The standard pitch deviation for rolled ballscrews falls in the tolerance class T7 (52μm/300mm).
Optionally, spindles can be produced with an accuracy that falls within the tolerance class T3 (12μm / 300mm).
Technical specifications
Standard diameter: Ø12 – Ø80 mm
Pitch standard: 5 – 60 mm
Transfer coefficient: 1-6
Direction of rotation: clockwise, KGS 2005 + 3205 also anticlockwise
Length standard: 5600 mm, KGS 1205: 2000 mm to 11000 mm on request
Material: 1.1213 (Cf 53) Ball track inductively hardened and polished, spindle end and spindle core are soft
Accuracy: L < 500 mm: 0.05 mm/m, L = 500 – 1000 mm: 0.08 mm/m, L > 1000 mm: 0.1 mm/m
Right/left spindle: only KGS 2005 + 3205
Nuts type GGS and GGM.