IAI Industrial Robots MSEP
Controller
8 axis position controller
IAI RCP/RCA 24V actuators
256 positions per axis - various bussystems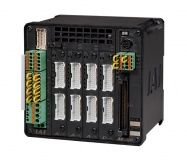 ---
A single MSEP controller can operate both the pulse motor and the servo motor type actuators, reducing set-up efforts significantly such as wiring even when different types of actuators have to be used at the same time.
Allows direct connection with the major fieldnetworks including DeviceNet, CC-Link, PROFIBUS-DP, Pro-Net, EtherCAT and EtherNet/IP.
256 positioning points per each axis
• Allows designation of position and speed navigation numerically
• Ability to verify current position in real-time
• Significant communication time reduction within the controller (Approximately by 1/10 compared to the predecessor model)
Simply and complete solution with drives

The IAI actuators are deliverd with drive and cabling. Specifications of the actuator like forces and number of mm each revolution of the motor are already fixed. Because of this a a quick and safe commissioning is guaranteed.

Software support by ATB Automation

The software engineers at ATB Automation assist in programming and commissioning via the help desk or on site

Flexible with bussystems

Besides control with I/O the drive can also be controlled with EtherCAT and ProfiNet.
The SD6 drive also has the CANopen option available.