IAI Industrial Robots ISWA
Linear units with carriage
230V servomotor - IP54/IP65
Payload 7-70 kg - ball screw spindle
1200 mm stroke - 1000 mm/s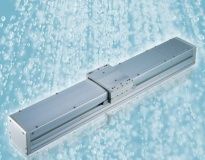 ---
The new slider structure keeps water out of the internal parts. When air purge is performed, the robot conforms to IP65.
The high-speed robot achieves a maximum speed of 1,000 mm/sec.
The maximum load capacity is 70 kg, so heavy loads can be transferred effortlessly.
The high-precision specification (ISPWA) with a C5-equivalent precision rolled screw boasts a positioning repeatability of ±0.01 mm.
The standard specification (ISWA) also ensures high accuracy equivalent to ±0.02 mm.
Select from the three sizes of S (94 mm wide), M (125 mm wide) and L (155 mm wide).
The protection class is IP54 without air purge.
The ISWA/ must always be used in a horizontal application in the specified orientation. Be sure to observe this requirement, since water will enter the housing if these robots are positioned on their side or used in a vertical application.
The protection class of each splash-proof model indicates protection against entry of water. Please contact IAI if you require protection against oil and coolant.
Be sure to implement air purge if the robot is used in a humid place (humidity of 85% or above). The purge air must be clean, dry air supplied from an air drier.
Simply and complete solution with drives

The IAI actuators are deliverd with drive and cabling. Specifications of the actuator like forces and number of mm each revolution of the motor are already fixed. Because of this a a quick and safe commissioning is guaranteed.

Software support by ATB Automation

The software engineers at ATB Automation assist in programming and commissioning via the help desk or on site

Flexible with bussystems

Besides control with I/O the drive can also be controlled with EtherCAT and ProfiNet.
The SD6 drive also has the CANopen option available.