IAI Industrial Robots RCP5-S
Linear units with carriage
24V stepper - absolute encoder
Payload 4-45 kg - ball screw spindle
800 mm stroke - 1440 mm/s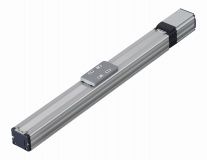 ---
The RCP5 series 24 VCD lineair electric actuators with battery-less absolute encoder, realize the convenience of an absolute encoder along with the cost and simplicity of an incremental encoder. The battery-less absolute encoder is an innovative encoder requiring no hassle or cost of battery replacement. This encoder is ideal for the automobile industry and other production facilities where many absolute type actuators are used.
The IAI RCP5-S linear actuators have a slider. Typical applications include pick-and-place applications, XY (Z) tables and also replacement of pneumatic actuators.
The IAI linear electric actuator RCP5 with slider is available in a width of 40, 58 and 73 mm, forces 4 until 45 kg and speeds up to 1440 mm/s.
The high performance associated PCON-CA controllers set the RCP5 actuators simple in operation. The PCON-CA controller is now also available with EtherCAT and Profinet, in addition to the already available network options as CC-Link, DeviceNet and Profibus. For multi-axis applications, the MSEP series is a compact and interesting controller.
Simply and complete solution with drives

The IAI actuators are deliverd with drive and cabling. Specifications of the actuator like forces and number of mm each revolution of the motor are already fixed. Because of this a a quick and safe commissioning is guaranteed.

Software support by ATB Automation

The software engineers at ATB Automation assist in programming and commissioning via the help desk or on site

Flexible with bussystems

Besides control with I/O the drive can also be controlled with EtherCAT and ProfiNet.
The SD6 drive also has the CANopen option available.