Faro Radial 2.2062...
Combination bearing
Radial roller bearing
Diameter 62 - 149 mm
Optional with mounting plate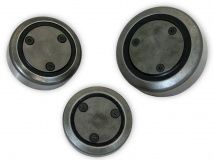 ---
These Faro radial roller bearings can be used as an alternative to the standard combined roller bearing. In the absence of lateral forces is to be preferred to use a radial roller bearing above a combination bearing.
The Faro radial bearing can be supplied with a welded mounting plate directly from stock.
Corresponding mast profiles are supplied cut to size.