Faro Eccentric 4.454...
Combination bearing
Adjustable with eccentric shaft
Diameter 62,5 - 149 mm
Optional with mounting plate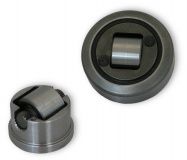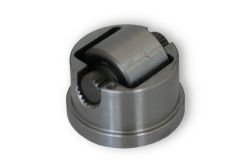 ---
The Faro adjustable combination bearing have the side (axial) roller mounted on an eccentric shaft which allows for height adjustment. The adjustable combination roller bearing provides vertical and horizontal mouvement for fork lift masts and other linear applications where special U profiles are used.
The unique system of the Faro adjustable combination bearing offers a good equal distribution of the radial and axial loads acting on the respective radial bearing and axial bearing.
The Faro adjustable combined bearings can be supplied with a welded mounting plate directly from stock.
Corresponding mast profiles are supplied cut to size.