Faro Standard 4.053...
Combination bearing
Standaard combination bearing
Diameters 52,5 - 149 mm
Optional with mounting plate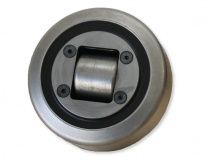 ---
The Faro standard combination bearing provide vertical and horizontal mouvement for fork lift masts and other linear applications where special U profiles are used.
The unique system of the Faro combination bearing offers a good equal distribution of the radial and axial loads acting on the respective radial bearing and axial bearing.
The Faro standard combined bearings can be supplied with a welded assembly plate from our own stock.
Corresponding mast profiles are supplied cut to size.