Nice goodbye to Johan Trompert as an all-round service engineer
Date: 29 March 2022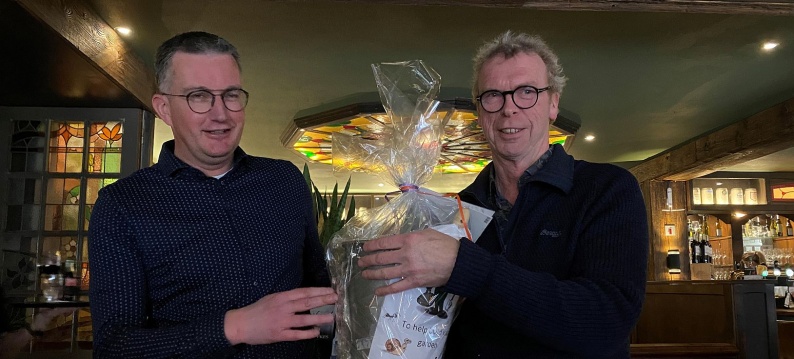 34 years a reliable and loyal colleague
On March 29 last, we had a company dinner with ATB Automation at Retaurant het Rechthuis in Mijdrecht for a long time. That always feels very nice! The reason for the dinner was the departure of Johan Trompert as an all-round service engineer.
In 1988 Johan started as a warehouse employee / service technician, at the time still Mijnsbergen B.V. in Bennebroek. In 34 years Johan has seen the company grow and especially contributed a lot to this. After the move to Mijdrecht in 1991, Johan formed the basis of the current service and project team. He has also developed himself as an all-round service engineer with knowledge and expertise in the mechanical and control field. In addition to the service department, Johan has also been a quality manager and responsible environment and health and safety matters since 2016.
At the age of 62, Johan makes the great choice to take a kind of pre-retirement. He recently moved with his wife to the far north in the Netherlands. Johan stops his work as a service engineer but remains involved with ATB Automation one day a week as quality manager. Here too there are new challenges with the implementation of ISO14001.
Johan's service tasks are taken over by Louk Jägers. After his internship and completing his MTS training in Mechatronics, Louk started working for ATB Automation last year and has now been well trained by Johan.
The entire team of ATB Automation thanks Johan for his efforts and contribution and wishes him a lot of luck and fun with his new step.