Tandler W
Reversing spiral bevel gearbox
Reversing spiral bevel gearbox
Torque up to 1.000 Nm
i = n1:n2 = 1:1 - 2:1 decelerating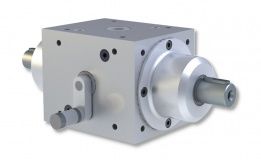 ---
With a constant direction of input shaft d1, the direction of rotation of the through shaft d2 (loose gear) can be switched to rotate in the same or opposite directions. The gearbox can be supplied either with or without shaft d1. In addition to the conventional manual operation of the switch lever, we can offer pneumatic, hydraulic, electric and electromechanical switching options.
For torques up to 1,000 Nm in 5 gear ratios of 1:1 up to 2:1 decelerating.
Features Tandler reversing gearbox W
5 gearbox sizes: 01, A1 - D1.
5 gear ratios (axis d1 ingoing):
i = n1:n2 = 1:1 | 1.25:1 | 1.5:1 | 1.75:1 | 2:1.
Input speed 3000 min-1.
Permissible max. torque up to 1.000 Nm.
Shaft diameter up to 60 mm.
Backlash Tandler W
Spiral bevel gearbox series 01 - B1: Standard 9' (arc minutes); reduced backlash 6'
Spiral bevel gearbox series C1 - D1: Standard 10' (arc minutes); reduced backlash 8'
Application examples Tandler W
Printing machines
Food processing
Automotive
Specialty engineering
Tandler is an "understanding" when it comes to quality, diversity, longevity and reliability. High accurate spiral bevel gearboxes thanks to application of the (cyclo)paloïd gear. Proven versatility and value time by being extremely precise with very low backlash and very low transmission error. Silent, shock resistant, have overload capability and are space saving.