Rotar DV
Universal joint
Double cardan joint - high precision
DIN808 - Steel C40 - needle bearings
Speed up to 4000 rpm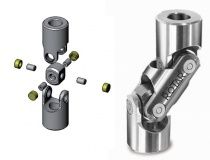 ---
High precision double cardan joints with needle bearings.
DV Series has needle bearing and hardened bushes.
This type of joints grants a very high speed and an absolutely constant accuracy. Cardan joints and slip shaft ROTAR are elements that enable the connection and transmission of off-centre mechanisms in the cheapest and most satisfactory way. As far as accuracy and life are concerned the cardan joints showed in this site, are the best possible in this field. The ROTAR joints are able to meet a complete range of power and speed applications on modern machines. This site include the various types we produce and shows how to select the correct Rotar joints for any particular application.