Rotar A
Universal joint
High precision single cardan joint
DIN808-7551 - Steel C40
Speed up to 800 rpm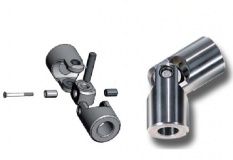 ---
The A Series is the optimum result of decades of experience in the joints manufacturing.
Main features:
- Hardened Bushes
- Pins and Block Grounded and hardened.
These technical solutions grant a life reliability and zero jokes persistence.
These joints are the result of a careful construction, with small tolerances, so they can offer great performances.
A particular grounding technique makes a perfect parallelism of the axes and the single parts of the joint.
All the parts in touch are hardened, grounded and lapped.