Rosta MB ATEX
Motorbase ATEX 94/9/EC
Motorbase ATEX 94/9/EC
From 0.75 kW to 250 kW
Easy installation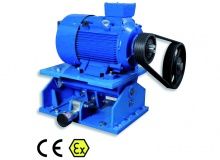 ---
The Rosta elastic motorbase type MB ATEX extends the life time of your belt drive significantly and realizes energy savings up to 20%.
The motorbase prevents slippage, slack of the belt. It offers ideal belt tension, constant transmission and relieves the belt and motor bearing by springing along by high starting torques or inertia. The Rosta motorbase reduces the production down time. It is very easye to replace the belt by releasing the pretentions of the motorbase.
The Rosta motorbase is perfect for belt drives from 0,75kW up to 250 kW nominal power rating.
ATEX installation zone
Zone 1, for gas presence IIC group, temperature class T5,
Zone 21, for dust presence, max. surface temperature T100°C
Ambient temperature -40°C - +80°C
The instructions for safety, maintenance and use of the motorbase are described in the relevant user and installation manual
Rosta motorbase available in 5 sizes
MB27 for motor type 90S to 112m
MB38 for motor type 132S 160L
MB50 for motor type 160M to 225M
MB 70 for motor type 250M to 315L
MB100 for motor type 315M to 355L