Rosta AV
Hanging oscillating mounting
Single joint with large rubber volume
For suspension of gyratory sifting machines
Load up to 16,000 per unit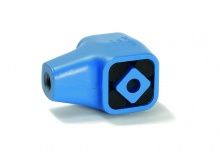 ---
The Rosta oscillating mountings type AV are maintenance-free elastic joints designed for guiding circular motions of hanging screens such as gyratory sifters and screens in flour mills, chemical processing plants and paper mills. The rubber inserts of these oscillating mountings are larger than the ones of the other Rosta elements. Therefore they intensively absorb the vibrations of the hanging sifters and better protect the building structures and ceilings.
The Rosta oscillating mounting can fulfill 4 important functions simultaneously
Supporting the static load.
Forming an oscillating system in which the dynamic spring stiffness is determining the resonance drive-capacity.
Dictating the direction of oscillation.
Insulating vibration and structure-borne noise.