Rosta AK
Elastic joints
Universal joint for support or suspension
For oscillating gyratory sifting machines
Load up to 40,000 N per unit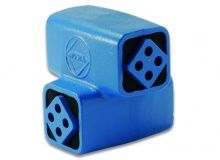 ---
The Rosta universal joints type AK are maintenance-free elastic joints which can be moved in any direction. They are used as universal joint supports for mounting or suspending gyratory screens, screening tables, tumbling oscillators, sorters and screening machines positively driven by eccentrics or freely oscillating with unbalanced drive.
The Rosta oscillating mounting can fulfill 4 important functions simultaneously
Supporting the static load.
Forming an oscillating system in which the dynamic spring stiffness is determining the resonance drive-capacity.
Dictating the direction of oscillation.
Insulating vibration and structure-borne noise.