Rosta AU
Oscillating mounting
Single rocker for adjustable length
Models with right and left hand threads
Load up to 5,000 N per rocker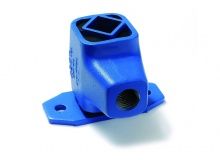 ---
Rosta AU oscillating mounting for adjustable length single rocker which can be used for one mass shaker systems. With the AU mounting you can customize the arm length by using round pipes.
Characteristics single rocker oscillating mounting Rosta AU
The AU mounting is available in several sizes with a maximum load capacity of 5000 N per element.
Mounted on the trough by means of fixing flanges.
Housings with either right- or left-hand threads.
Joined together by means of a threaded rod which must be provided by the customer.
Rocker housings made of die-cast aluminium,
AU 50 and AU 60 types are made of spheroidal graphite cast iron.
All cores have fixing plates made of steel.
Characteristics for one mass shaker conveyer systems without spring accumulators
Acceleration 1.1 to 1.7 G-forces
Conveying speed 6 to 15 m/min
Trough lengths maximum 12 to 15 meters
Characteristics for one mass shaker conveyor systems with spring accumulators
Acceleration 1.1 to 2.2 G-forces
Conveying speed 6 to 22 m/min
Trough lengths maximum 20 meters