Rosta HS-HSI
Oscillating mounting for hanging system
For hanging systems
Load up to 14,000 N per unit
Natural frequencies approx. 3 – 4 Hz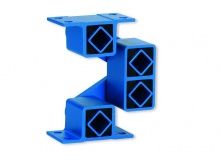 ---
Rosta HS oscillating mounting for hanging free oscillating systems. The Rosta HS oscillating unit isolates the vibration and has a low residual force transmission. Rosta oscillating mountings has proven long life time. Examples of more that 20 years at 24 hours operation a day are available.
The maximum load per HS oscillating mounting is from 500 up to 14,000 N per unit.
With ideal loading, the natural frequency of this suspension thereby sinks from its former 5.5 Hz to only approx. 3.5 Hz, which guarantees an isolating effect > 97 %.
Advantages Rosta HS free oscillating mountings
Direct installation under bunkers = No complicated yoke construction required.
Low natural frequency of the suspension = Low residual vibrations in the silo structure and the building.
High lateral stability = Short, controlled and safe run-out of the vibrating machine.
Rosta HS multifunctional oscillating units can fulfil 4 functions simultaneously
Support static load
Forming an oscillating system in which the dynamic spring stiffness is determining the resonance drive-capacity
Dictating the direction of oscillation
Isolation of vibration and structure-borne noise
Rosta HS oscillating mounting are excellent for a one mass free oscillating system linear motion screen hanging
Examples of applications are conveyers, sifting machines, etc.