Rosta BK
Mounting bracket round
Mounting bracket round
For DK rubber suspension units
Blue paint-finished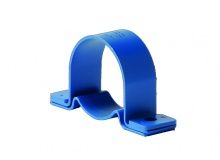 ---
Rosta modules should be connected on machine parts/structures by means of the standardized clamps and brackets. Relevant welded connections would affect (overheat) the rubber inserts and damage the entire suspension device!
The Rosta BK clamp is supplied separately without bolts. The BK clamp is standardized to fit exactly for the fixation and positioning of the Rosta rubber suspension units type DK-S and DK-A by frictional force created by the bolted double clamp. For longer units two or more clamps are recommended. All clamps are paint-finished.
Directly from stock

ATB Automation can supply you several rubber suspension units and fixations brackets from stock.

Support with your selection

ATB Automation supports you for the right choice of your rubber suspension unit and accessories.