Rosta DO
Rubber suspension unit
Double rubber suspension unit
Load up to 2900 Nm per unit
In several versions available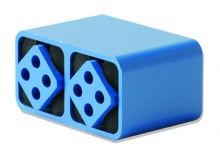 ---
The Rosta rubber suspension element has 20 possibilities for assembling. With its characteristic as a spring, pre tensioner, damper and bearing, the suspension unit can be multifunctional used as. There are many applications for the rubber suspension elements, like play ground equipment, conveyer belt scraper etc. Ideal as a replacement for complicated, high maintenance components.
Rubber suspension units are available in several basic versions:
Square housing.
Round housing.
With clamps.
With flanges.
With welded-on bracket.
Etc.
Equipped with:
A hollow square in profile.
A square inner profile with 1.2 or 4 (threaded) holes.
Rosta offers different standard rubber qualities according to the specific application and environment like food, oils, dirt, etc:
Rubmix 10 – Standard quality
Rubmix 20 – Good oil resistance
Rubmix 40 – High temperature resistance
Rubmix 50 – Higher torque
After Rosta elements are assembled it is not possible anymore to weld to the housing. Rosta also offers several loose mounting systems for the rubber spring elements.
Rosta rubber suspension units are suitable for torques up to 12,000 Nm.
Directly from stock

ATB Automation can supply you several rubber suspension units and fixations brackets from stock.

Support with your selection

ATB Automation supports you for the right choice of your rubber suspension unit and accessories.