Rosta SE
Chain tensioner and belt tensioner
Standard chain and belt tensioner
Temperature -40°C - +80°C
Adjustable up to 5250 N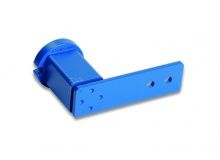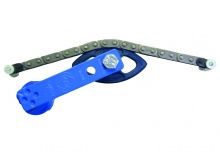 ---
Rosta SE maintenance free tensioner devices for chain drive and belt drive. The SE standard tensioning systems prevent necessity to compensation of lengthening due to age and prevents slipping of the belt. Also dampens the noise level. Through aging extension of the chain and belt occurs. The SE tensioning device automatically corrects this extension and in such prevents the sagging and beating of the chain and excessive slippage of the belt. The tensioner devices offer a quiet chain run and reduces wear on rollers and bearings.
Various versions with a working temperature range up to 120°C (standard tensioners 80°C).
In the standard catalog tables are available for selection of the type of tensioner with sprocket sets and other accessories that can be applied with different types of chain, according to DIN8187.
Tension force Rosta SE tensioner
The tension force is stageless adjustable to an angle of 30°.
Tensioner SE15 adjustable up to 165 N
Tensioner SE18 adjustable up to 435 N
Tensioner SE27 adjustable up to 1000 N
Tensioner SE38 adjustable up to 1875 N
Tensioner SE45 adjustable up to 3250 N
Tensioner SE50 adjustable up to 5250 N
Accessories Rosta SE tensioner
The Rosta chain tensioner and belt tensioner is easy to install with a wide range of accessories.
Chain wheels with ball bearing
Chain rider set (max. permissible speed is 1.5 m/s)
Pretensioning brackets, quick pretensioning system
Tensioning rollers (plastics and steel version) with ball bearing
Belt tensioner for wide belts, max. 250 mm