NEFF TGT
Spindle
Trapezoidal-threaded spindles
Diameters up to 120mm
6 types of nuts available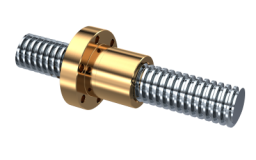 ---
NEFF trapezoidal spindles are produced according to DIN 103. Rolled spindles have exceptionally good running properties.
The trapezoidal sliding nuts are made of a copper-bronze alloy as standard (material 2.1090, G-CuSn7ZnPb, RG7).
Available in cylindrical shape or with flange. In addition, trapezoidal nuts in layered bronze with a higher strength, in plastic version or as steel nuts are available.
Trapezoidal spindle (RATS, RPTS)
The material is standard 1.0401/C15. (RPTS)
Extensive range of stainless steel trapezoidal spindels (1.4305/X8CrNiS18-9) (RATS)
Technical specifications
Standard diameter: 10 – 120 mm
Pitch standard: 2 – 24 mm
Transfer coefficient: 1-6
Direction of rotation: clockwise/anticlockwise
Length: Standard: 3000 mm, Ø20: 6000 mm to 11000 mm on request
Material: 1.0401 (C 15)
Accessories
Fitted bronze nuts (EFM)
Long copper nuts, cylindrical (LRM)
Short steel nuts, cylindrical (KSM)
Hexagonal Steel Nuts (SKM)
Safety Nuts (SFM)
Long plastic nuts, cylindrical (LKM)