IAI Industrial Robots FS
Linear units with carriage
230V servo motor
Payload 2-60 kg - tooth belt drive
3000 mm stroke - 2000 mm/s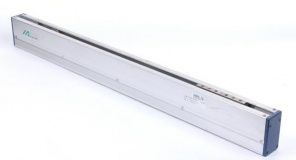 ---
A wide variety of congurations are possible by simply combining Actuator, Guide Rail and Prole Modules.
The slim design enables the FS Linear Axes to provide from 300 up to 3000 mm stroke.
The FS Large Type focuses on 2 main types: A High-Speed Type (max. speed: 2000 mm/s) and a
High-Payload Type (max. payload: 60 kg).
Timing Belt Drive Method provides a quieter motion.
Gantry-Type Systems with larger work areas are achievable using guide modules also available in this series.
Simply and complete solution with drives

The IAI actuators are deliverd with drive and cabling. Specifications of the actuator like forces and number of mm each revolution of the motor are already fixed. Because of this a a quick and safe commissioning is guaranteed.

Software support by ATB Automation

The software engineers at ATB Automation assist in programming and commissioning via the help desk or on site

Flexible with bussystems

Besides control with I/O the drive can also be controlled with EtherCAT and ProfiNet.
The SD6 drive also has the CANopen option available.