Tandler INOX
INOX spiral bevel gearbox
High precision spiral bevel gearbox INOX
Torque up to 400 Nm
Ratios i = n1:n2 = 1:1 tot 3:1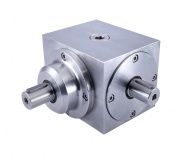 ---
The Tandler Stainless steel spiral bevel gearboxes for torques up to 400 Nm. High accurate spiral bevel gearboxes thanks to application of the (cyclo)paloïd gear. Proven versatility and value time by being extremely precise with very low backlash and very low transmission error. Silent, shock resistant, have overload capability and are space saving.
Features Tandler SS spiral bevel gearbox
5 gearbox sizes: 000, 00, 01, A1 and B1.
3 gear ratio ranges (axis d1 ingoing):
i = n1:n2 = 1:1 | 2:1 | 3:1.
Permissible max. torque up to 400 Nm
Input speed 3000 min-1.
Shaft diameter up to 42 mm.
4 versions :
standard version VA,
hollow shaft VA HW (d2),
hollow shaft and shrink disk VA HWS (d2),
reinforced shaft WV (d2)
Application examples Tandler high precision spiral bevel gearbox
Printing machines
Food processing
Automotive
Specialty engineering
An "understanding" when it comes to quality, diversity, longevity and reliability.