Rosta ESL
Anti-vibration mount
Absorption tensile, pressure and shear load
Natural frequency 3,5 - 8 Hz
Load up to 19,000 N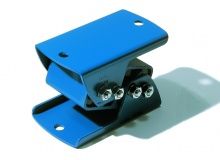 ---
Rosta ESL anti-vibration mount, an element with a high degree of isolation. The ESL anti vibration mounts can be used to absorb several loads:
Tensile load
Pressure load
Shear load
The anti vibration units can be installed in any possible position and is ideal for wall and ceiling installations. Due to the mechanically secured design of the ESL anti-vibration unit, no tearing off is possible.
De Rosta ESL vibration unit is maintenance free and insensitive to water and dirt. The suitable temperature range is -40°C - +80°C.
Axial load Rosta ESL anti-vibration mountings
ESL 15 200 N – 550 N
ESL 18 450 N – 1.250 N
ESL 27 700 N – 2.000 N
ESL 38 1.300 N – 3.800 N
ESL 45 2.200 N – 6.000 N
ESL 50 4.000 N – 11.000 N
ESL 50-1.6 5.500 N – 15.000 N
ESL 50-2 7.000 N – 19.000 N