Rosta AD
Double rocker arm for guided systems
Double rocker with fixed centre distance
Up to 2,500 N for flange fixation
Up to 1,600 N for central fixation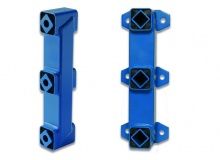 ---
Rosta AD-P/AD-C double rocker for guided systems is used for suspending and supporting two-mass shaker systems. The AD double rocker oscillating mounting is has a decided center distance and is made for high capacity. The housings and the inner square sections are made of welded steel.
Two types double rocker oscillating mountings
Double rocker AD-P for flange mounting up to 2,500 N per unit
The core of the AD-P type is equipped with fixing plates constructed analogously to the AU type.
Double rocker AD-C for central mounting up to 1,600 N per unit.
The inner square section of the AS-C type are made of aluminium profile.
Advantages Rosta AD double rocker oscillating mounting
Easy to install
Maintenance free
Low wear in operation
Screening and separating operations at the same time
Rosta AD double rocker are multifunctional and can fulfil 4 functions simultaneously
Support static load
Forming an oscillating system in which the dynamic spring stiffness is determining the resonance drive-capacity
Dictating the direction of oscillation
Isolation of vibration and structure-borne noise