Rosta AB-HD
Oscillating mounting heavy duty
For higher loads than standard AB
Load up to 60,000 N per unit
Natural frequencies approx. 2,5 – 3,5 Hz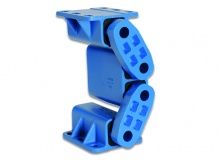 ---
Rosta AB-HD oscillating mounting for free oscillating systems. AB-HD is a "Heavy Duty" version of the AB mount. The AB-HD type offers 40 % more load capacity compared to the standard AB version. The Rosta AB-HD oscillating unit isolates the vibration and has a low residual force transmission. Rosta oscillating mountings has proven long life time. Examples of more that 20 years at 24 hours operation a day are available.
The maximum load per standard AB-HD oscillating mounting is 60,000 N per unit.
Advantages free oscillating mountings
Easy to install
Maintenance free
Low wear in operation
Screening and separating operations at the same time
Rosta AB-HD oscillating units are multifunctional for 4 simultaneous functions
Support static load
Forming an oscillating system in which the dynamic spring stiffness is determining the resonance drive-capacity
Dictating the direction of oscillation
Isolation of vibration and structure-borne noise
Application Rosta AB-HD oscillating mounting for several free oscillating systems
One mass system linear motion screen
Two mass system with counter frame
Examples of applications are
Shaker conveyers
Sifting machines
Screens
Etc.