Introduction: Patrick
Date: 17 July 2019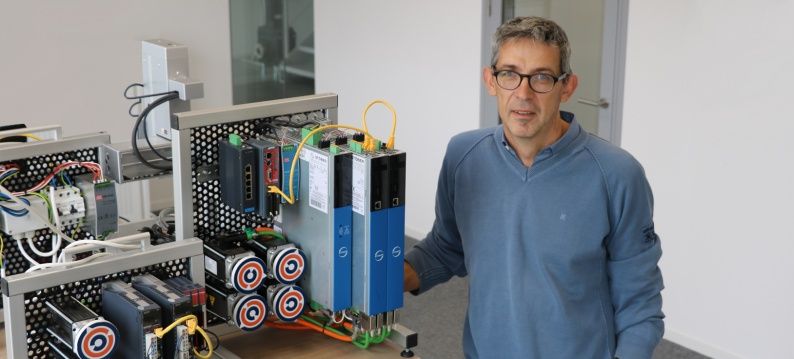 Since April the ATB Automation team is strengthened with a new colleague, Patrick Brenard, active as a sales engineer motion control in the Belgian market. Patrick is happy to introduce himself to you.
'My name is Patrick Brenard, 50 years, married and proud dad of my son Louis. I am living in Bree (Belgian Limburg). My hobby is triathlon, I like to live a healthy and balanced live in addition to swimming, cycling and running. Besides triathlon I like to spend my free time in the mountains of Austria. In the winter as an enthusiastic skier and in the summer on my MTB bike or a mountain walk… as long as there is action!
Besides my study as professional bachelor in electro-mechanics I also did a lot of evening courses. For example, I have obtained a certificate for bicycle to motorcycle mechanic, which comes in handy in my hobby. I also had a nice training in alternative energy sources and energy expert EPC to check buildings for their ecological footprint.
In the past I have been working as a technical work planner at Arcelor Mittal for 15 years. And in the past 11 years as a Sales Engineer at GMC-Instruments (test & measurement, measurement converters and thermal imaging cameras). At a certain point I was ready for a new challenge.'
The click
The search for this new challenge was not easy, because Patrick set the bar high for himself. For example, he focused on the following two interests, a nice customer contact and a high degree of technicality. Two aspects that certainly apply to the position of sales engineer motion control in the ATB Automation team. 'I still remember that Olaf and Henry were charmed by my drive during our first conversation. 'The click was instantly there!
Intensive internal training
'During my intensive training months, it quickly became clear to me that only passionate and sympathetic people work at ATB Automation who make me feel like swimming in a very healthy pond.
My challenge at ATB Automation is to put Belgium on the map better and stronger in the field of high-tech automation, better known under the term Motion Control. There are already many satisfied customers of ATB Automation in Belgium, but the world of technology is running like a TGV and standing still means regression.'
'I am facing great challenges or even better… I am going after them!'