Introduction: Obbe & Mark
Date: 9 April 2018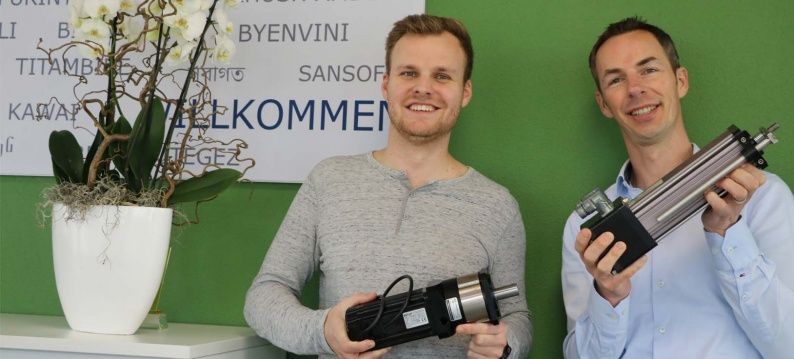 The growth within ATB Automation is in an upward trend. Since February 1st we have found two new colleagues who have been added to the ATB Automation team. Obbe van der Meer works as a product manager motion control and Mark Krijzer as a sales engineer motion control. Both persons would like to introduce themselves.
Let me introduce myself: Obbe van der Meer
'I am Obbe van der Meer and after a training of 2 months since April 1st I am working as a product manager at ATB Automation. Besides working I enjoy cooking, sports, travelling, culture and history. I like to come out of my comfort zone to discover, to get to know myself more and more. I also love having company and drinks. I am 28 years old and live in Amsterdam North.
From the IPO course at the Haagse Hogeschool I learned to combine technology with communications and commerce. After that I gained experience in managing product groups during my career.'
With his interest and feeling for international relations, Obbe will focus on the product groups servo technology and the associated suppliers such as Stöber, Estun and Wanshsin and companies that are qualified. 'It is nice to work at a company where development is intensively worked out, so that I can start my career here with confidence. I am gonna have a lot of fun within this experienced company where everybody has a helpful mentality.'

Let me introduce myself: Mark Krijzer
'My name is Mark Krijzer and as a sales engineer I am reinforcing the motion control team at ATB Automation. Besides working I like to spend time with my family and friends, do sports and like to work with my hands to realize things in the house or in the garden. I am 43 years old and live in Utrecht together with my wife and two sons.

I've been intersted in technology since I was a kid and was already working on it, from lego to tape recorders and other audio equipment. That interest was also the reason for following a technical education at the Hogeschool Enschede. During my study I noticed that I also had commercial interests. The reason for me to do another one-year head course business administration after my technical education. After that I first worked in technology on a development department, but then I started focussing on the technical commercial level in various product management jobs.'
In his last role, Mark regularly visited customers for specific complex product groups and filled in the slaes process alongside product management. 'That appealed to me and then I came into contact with ATB through a friend. I heard that they were looking for a sales engineer motion control for the special machine building and that seemed like a nice challenge at a good club with interesting products.'
After an intensive training period of two months Mark is looking forward to actually getting started and setting up projects with clients and managing them in the right direction.