Introduction: Christof Marcoux
Date: 28 November 2016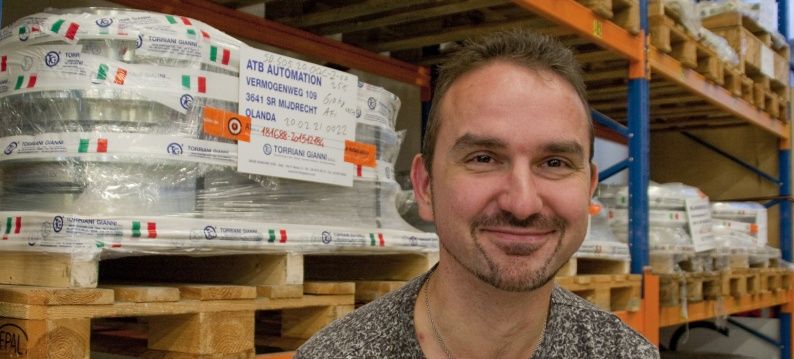 Since August 29th Christof Marcoux reinforces our sales team at ATB Automation in Sint-Pieters-lion (BE). Christof is 37 years and tells about himself: "I am married to Nancy and I have a big family from my first marriage. I like cycling, traveling and enjoy dining out. At Hogeschool Gent I completed the first two years of education in industrial engineering successfully. After that I started in sales of alternators and starters in Behaege. I also worked for several companies as a technical-commerical employee."
Through social media
ATB Automation promoted the vacancy for sales office employee on social media in 2016. "My wife noticed on the Facebook page of Carine, former neighbor of hers, that ATB Automation was looking for reinforcement. ATB Automation appealed to me, especially the vision, freshness of the company, the technical aspects, good atmosphere and professionalism," explains Christof.
Intensive internal training
Christof continues: "And now I may reinforce this wonderful company. Especially the technical aspect in my job appeals to me. I did not have knowledge of drive technology, but I am very interested in it. Hence my motivation to do anything to start at ATB Automation and create a success story here. And luckily they gave me this opportunity. The first few months I followed an intensive internal training. In Belgium and the Netherlands, I learned the ins and outs of the product specialists for the brands I am responsible for in Belgium as of November this year: TANDLER spiral bevel gearboxes, ROSTA rubber suspension units, JAKOB couplings, FARO combined bearings, TORRIANI slewing ring bearings, WEISS indexing tables, CMCO PFAFF screw jacks and DE-STA-CO tensioners. Additionally, I have attended a specialized training with our key suppliers WEISS in Germany and DE-STA-CO in the Netherlands."