Trio Motion Technology MXM
Brushless ac-servomotor
Servo motors 1 until 3 kW
Stall torque 4,8 to 14,3 Nm
Rated Speeds up to 3000 rpm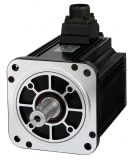 ---
The Trio servo systems are supplied as a complete set, consisting of servo motor, servo controller and cabling.
Servo motors with power from 1 to 3 kW in two sizes (flange square 130 and 180 mm)
Peak torques 300% relative to rated torque.
Available with 20 bit incremental encoder or 23 bit absolute encoder (using battery)
Optionally with fail-safe brake.