Stöber F-IE2D
Geared motor
Shaft-mounted helical geared motor
0,75 – 7,5 kW / IE2 high efficiency
10 – 1322 Nm / 5 – 675 rpm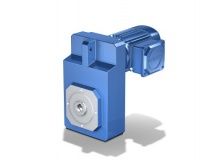 ---
Co-axial geared motor with large shaft-center distance. Particularly suited as travel drive.
6 gear sizes shaft mounted helical geared motors (F1 to F6).
Motor power 0,75 to 9.2 kW (IE2).
Rated torque of 24 to 1,100 Nm.
Gear ratios from i = 4 to 440.
Backlash smaller than 10 - 11 arcmin, reduced 5 - 8 arcm.
Modular, torsionally stiff , leak-proof design.
Shaft mounted helical geared motors available with:
Solid shaft with keyway.
Hollow shaft with keyway, optional with cover.
Hollow shaft with shrink disk, optional with cover.
Gear unit and AC motor are directly flange mounted, the pinion is on the motor shaft. This integrated compact design is an essential factor for the high accuracy and the extraordinary stiffness of STÖBER MGS geared motors.
For vector-controlled inverter operation use of an incremental encoder is provided for as standard.
The MGS F shaft mounted helical geared motors are lifetime lubricated under normal operating conditions.