Stöber PA-MF
servo gear
Planetary gearbox – highly accurate
Rated torque to 1000 Nm
3:1 – 100:1 / 1 – 2 arcmin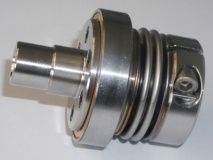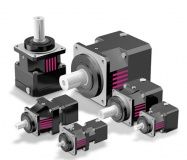 ---
Axial planetary gearboxes with helical gearing. Optimized version with very low backlash (< 1 arcmin), Extraordinary running smoothness and positioning accuracy.
5 sizes planetary gearboxes (PA3 to PA8).
Accelerating torques of 50 to 1,600 Nm.
Gear ratios from 3 to 100.
Backlash smaller than 1 to 2 arcmin with single-stage gearboxes and 3 to 4 arcmin with 2-stage gearboxes.
Optional ServoStop: with a in the motor adapter integrated fail-safe brake.
The planetary gearbox can be supplied with a motor adapter and backlash-free EasyAdapt® coupling, suitable for every type servo motor. This coupling compensates thermal expansion of the motor. In addition, the gearboxes can be executed with a drive shaft.
The Classic Line PA-series is characterized by the helical gear and ... (bossed?) finishing, by which it runs extremely quiet, has a high backlash stability, low backlash with extraordinary running smooth-
ness and positioning accuracy.
Because the planet carrier is ....... on both sides, the loads on the output shaft can be maximal.
Friction, especially on the drive side are reduced to a minimum. This makes the P-series ideal for
high demands on dynamic performance or continuous duty strength at high speed level.