CMCO Pfaff SSP
Stainless steel worm gear screw jack
Stainless steel worm gear screw jack
Lifting capacities of 30 to 250 kN
Ingoing speed up to 1500 min-1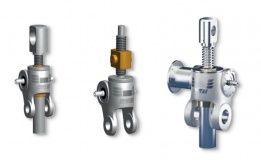 ---
Pfaff SSP stainless steel worm gear screw jack. Made of high-grade stainless steel designed specifically for mechanical lifting solution for the tough requirements in the field of e.g. paper industry, steel hydraulics constructions, food industry and explosion-proof areas.
Features Pfaff SHE screw jack
3 sizes with lifting capacities of 30 to 250 kN
Drive-motor speeds of up to maximum 1,500 rpm
Self-locking wired trapezoidal screw
High-quality lubrication
Motor flange screwable from the outside
Housing with swivel brackets
Identically constructed to European manufacturers
Standard fastening for motors
Chamfer at the header to fasten the protection boot
Innovative materials
FEM optimized housing
Two ratio steps (normal "N" and slow "L")
High-grade stainless steel

Pfaff supplies high-grade stainless steel worm gear srew jacks for food processing and paper industry.

Calculation of worm gear screw jack

ATB Automation makes with you the calculation and selection of the servo motor according to your specifications.

Complete lifting systems

In Belgium and Luxemburg ATB Automation supplies besides the worm gear srew jacks also couplings, connecting shafts and drives for your complete lifting system.