CMCO Pfaff HSE
Screw jack
Worm gear screw jack, axial or rotating screw
Lifting capacities of 5 to 1,000 kN
For higher speeds up to 3000 min-1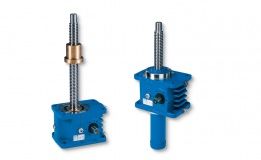 ---
CMCO Pfaff HSE high performance lifting worm gear jack with axial or rotating screw developed specifically for the dynamic use at medium and high lifting speeds (up to 3000 min-1) and an increased duty cycle. Available for a load range of 5 up to 1.000 kN. The housing made of spheroidal graphite iron with the cast-on cooling fins is designed in such a way that high heat dissipation to the surrounding area is ensured.
Construction forms Pfaff HSE screw jack
HSE BA1 Axial lifting screw
HSE BA2 Rotating screw
Features Pfaff HSE screw jack
8 sizes with lifting capacities of 5 to 1.000 kN
High drive-motor speed of up to 3.000 rpm
Self-locking wired trapezoidal screw
Separate lubrication circuits:
trapezoidal screw with grease-lubrication and worm gears with oil-splash lubrication
Worm gear pairs in two ratio steps (normal "N" and slow "L")
Worm-drive shaft case-hardened and ground
Application examples HSE lifting worm gear jack
Lifting of a filter housing in ATEX zone
Scissor lifting table
Also available with accessories such as couplings, connecting shafts and drives for your complete lifting system.