Leadshine ELM2H-LA-T
Brushless ac-servo motor with 23 bits optical encoder
Ac-servo motor 750W - 1 kW / 80 mm
Stall torque 2,4 to 3,2 Nm
400Vac / rated Speeds up to 3000 rpm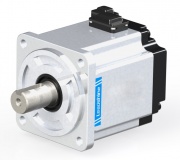 ---
Compact brushless ac servo motors with 23 bit optical absolute encoder, optionally with fail-safe brake. The encoder cable is optionally available with battery for multi-turn absolute positioning, eliminating the need for homing procedures.
The ELM2H-LA-T series is supplied in combination with the 400Vac EL7 servo drives.
Protection class IP67 and compact connectors.