Akribis Systems ACR
Curved, Ironless Linear Motor
Ironless direct drive curve servo motor
Continuous torques 24 - 460Nm
Hall sensors - cogging free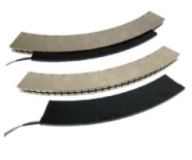 ---
The ACR-series belongs to the ironless linear motors. The technology is characterised by no cogging force and low moving mass, which achieves an optimal smooth motion and highes dynamics.
Special feature of the ACR-series is the curved design, which can be arranged as a limited angle or as a 360° movement (see photos).

Typical applications are rotary table applications with very low overall height and large hollow shaft.
Zero cogging
High force density
Low moving mass with high dynamic
High speed for low cycle time
Very flat design
Flexible combination of several motors and tracks
Max. 330VDC