Akribis Systems ASU-DGL
Precision XY system
Direct drive lineair motors
Max load 2,7 kg - encoder 1.0- 0.1µ
Max reach 600 x 300 mm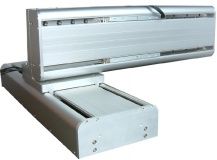 ---
High precision XY system within a range of 200 x 200 to 600 x 300 mm.
Made up of two pieces DGL direct drive linear motor modules with zero cogging and no backlash.
Available with linear encoders 1μm, 0.5μm, and 0.1μm.
Very high accelerations (up to 10 m/s2) and speed (up to 5m/s)

Control using the Akribis ASD servo controllers.
Interpolation using the Trio MC4N-ECAT motion controllers.