Akribis Systems ACW
Direct drive torque motor
Torque motor - no cogging - large centre hole
Continuous torque 0,6 – 10 Nm
Speed up to 400 rpm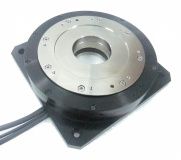 ---
Direct drive torque motor without cogging and with very large centre hole.
Available in 3 sizes with square frames of 120, 170 and 220 mm en centre hole of 37, 55 en 70 mm
Continuous torque 0,6 – 10 Nm en speed up to 400 rpm.
Complete solution

Equipped with integrated guides and linear encoder. ATB Automation also supplies the servo drive and motion controller.