Akribis Systems AZT
Voice coil module
Vertical-theta voice coil stage
Continuous force/torque 4N – 9,1 mNm
Stroke 10mm – 360 degrees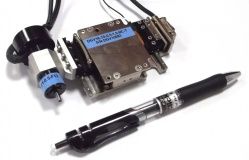 ---
The vertical rotation voice coil module, vertical-theta, AZT module Akribis consists of a DGV voice coil motor with an ARC rotary motor. The DGV series is specially designed for pick-and-place applications with rotary motion which can be mounted in a limited space side by due to their compact shape.

Continuous force of the voice coil is 4N with peak forces up to 12N. For the rotary motion is continuous and peak 9.1 36.4 mNm available.

The AZT is characterized by a fast response and settling time making it ideal for high frequency applications.