Akribis Systems DGV
Voice coil module
Double guide voice coil stage
Continuous forces 4 – 18N
Stroke 10-20mm / encoder 1.0-0.5µ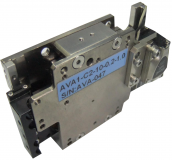 ---
The voice coil module, DGV series, of Akribis is composed of a voice coil motor from the AVA series with a double guide, and a linear encoder of 1.0 or 0.5 microns.
The DGV series is specially designed for pick-and-place applications in a limited space. Many modules can be mounted side by side due to the compact design.
The motor is characterized by a fast response and settling time making it ideal for high frequency applications.
There are three versions are available with a maximum recommended load of 0.17, 0.40 and 0.75 kg and a maximum stroke of 10 to 20 mm.
The width is 16, 26 and 36 mm.